You may have the IBKR Mobile app installed simultaneously on multiple devices but the integrated authentication module (IBKR Mobile Authentication) can only be active on a single smartphone, on which you will complete the Two-Factor authentication tasks triggered from any other device.
Nevertheless, if you possess multiple smartphones or if you lost/replaced your smartphone, you have the possibility to migrate the IBKR Mobile Authentication activation, without the need of contacting IBKR Client Services. The IBKR Mobile Authentication migration allows you to carry on the Two-Factor authentication tasks on your secondary/new smartphone, while removing this capability from your primary/old device.
This procedure can be used in case you lost/replaced your device or in preparation for a business trip or for a holiday period, during which you will not have access to it.
Requirements:

- This procedure will be entirely performed on your secondary/new smartphone. You do not need to be in possession of your primary/old smartphone (where IBKR Mobile Authentication is currently active)

- Unless you have a physical security device active for your user, you need to have access to the mobile phone number you originally used to activate IBKR Mobile Authentication, since we will send a text message (SMS) to that mobile number as a part of the migration procedure.

Once you have reviewed the above requirements, please click one of the below links, according to the operating system of your secondary smartphone
1. Open IBKR Mobile, enter your username and password and tap Log In
Figure 1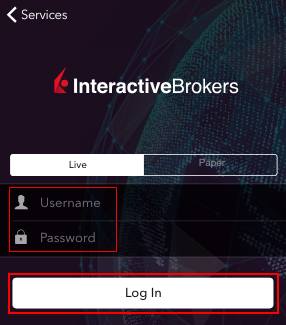 2. Select the Migrate IBKR Mobile Authentication option (Figure 2), then tap Migrate IBKR Mobile Authentication to confirm your choice (Figure 3)
Figure 2 Figure 3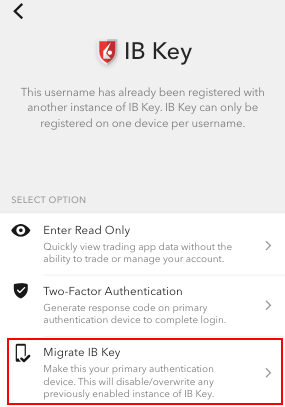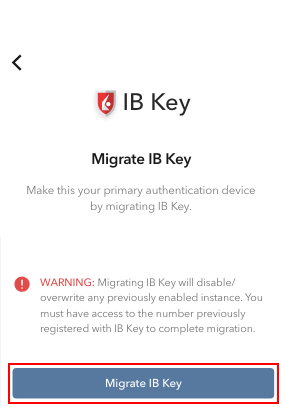 3. Once you have read the instructions, tap Continue
Figure 4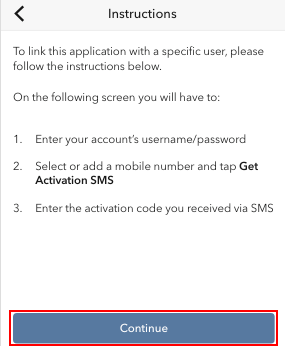 4. Enter your username and password, then tap Log In
Figure 5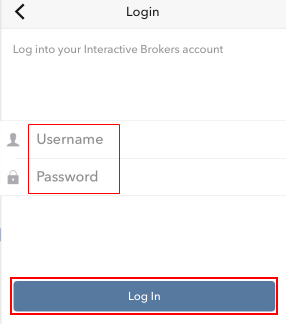 5. Read the Activation Token from the text message (SMS) sent to you (Figure 6). Enter the Activation Token in the Activation Code field, then tap Activate (Figure 7)

Figure 6 Figure 7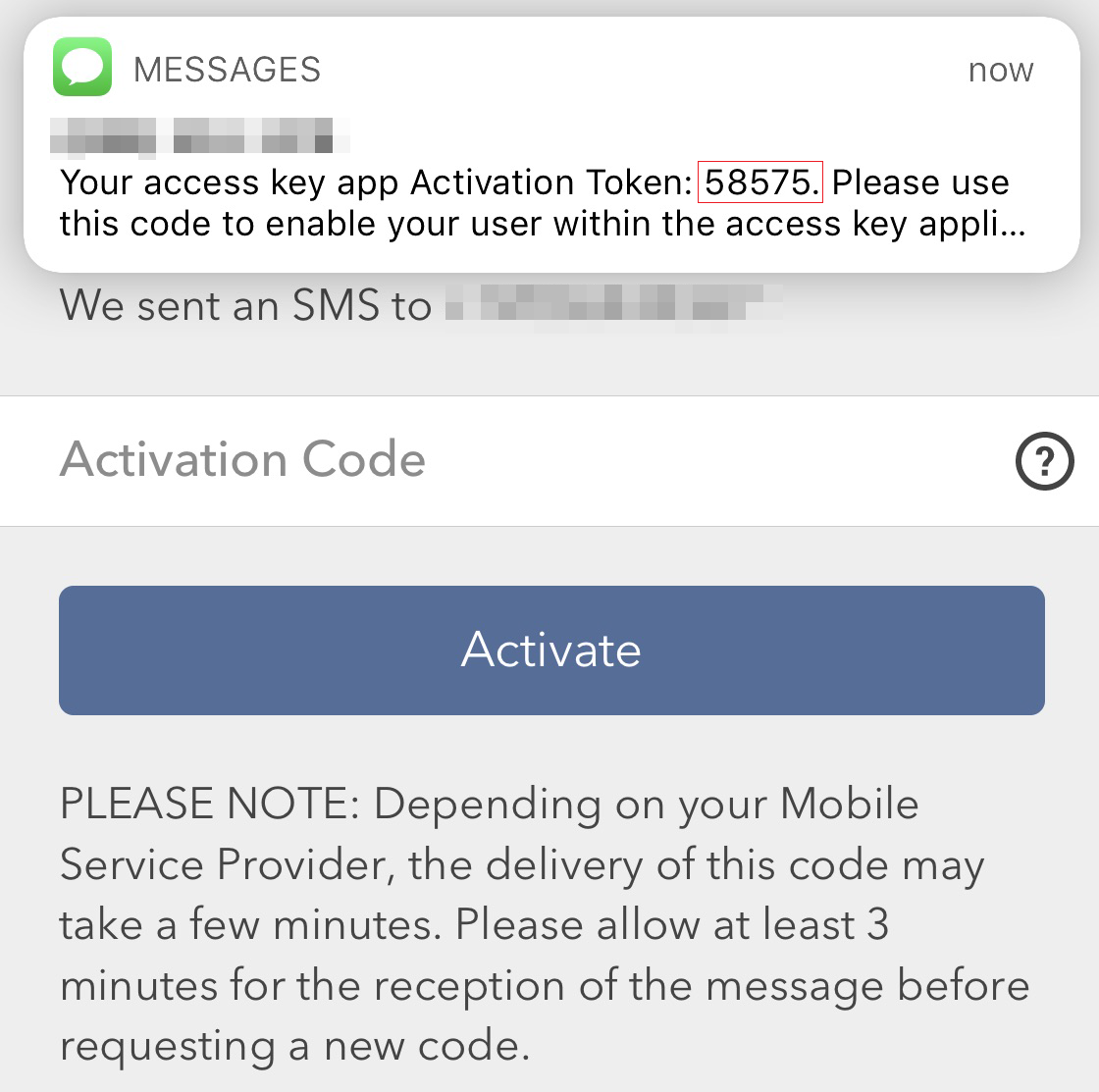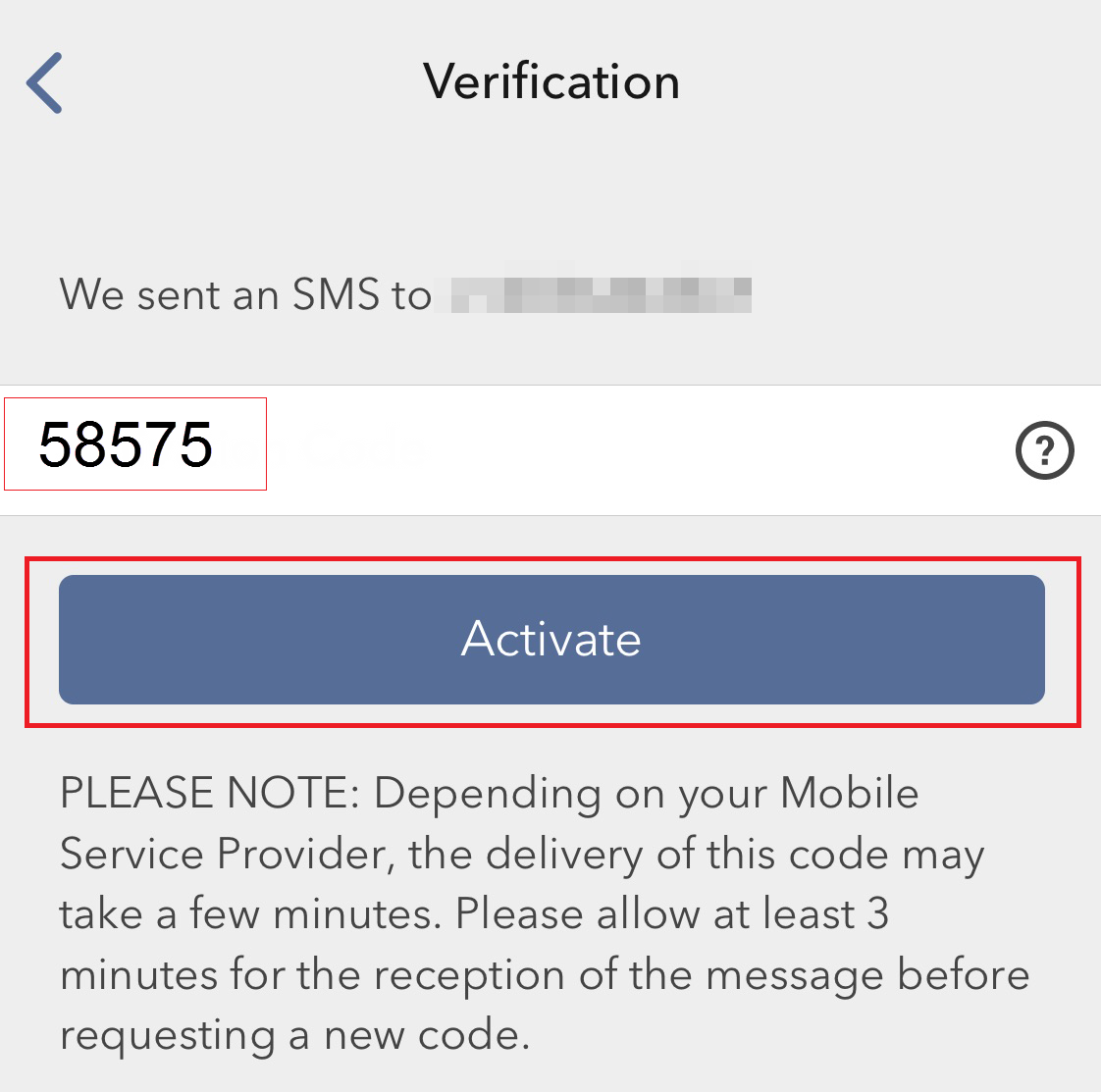 6. Tap Done to complete the migration process
Figure 8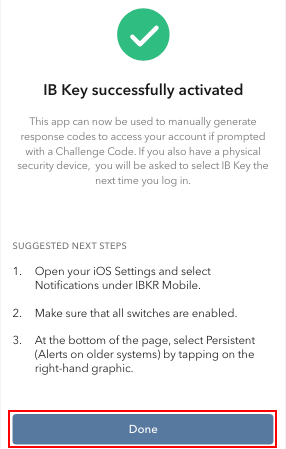 1. Open IBKR Mobile and enter your username and password and tap Log In
Figure 1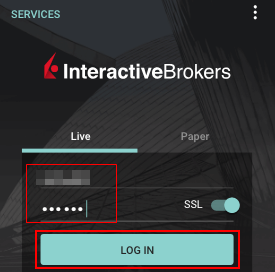 2. Select the Migrate IBKR Mobile Authentication option (Figure 2), then tap Migrate IBKR Mobile Authentication to confirm your choice (Figure 3)
Figure 2 Figure 3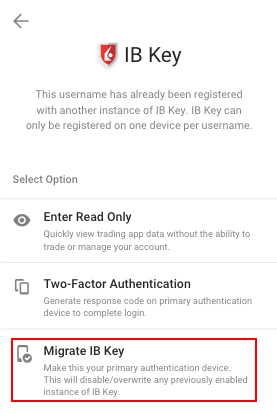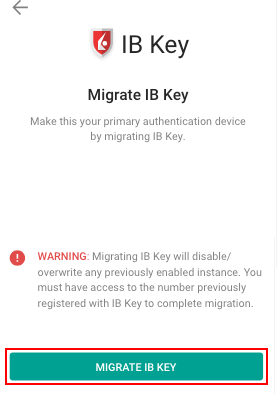 3. Once you have read the instructions, tap Continue
Figure 4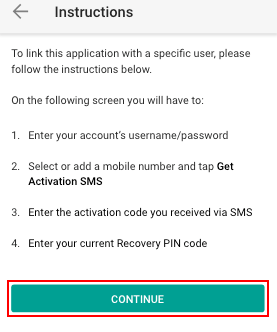 4. Enter your username and password, then tap Log In
Figure 5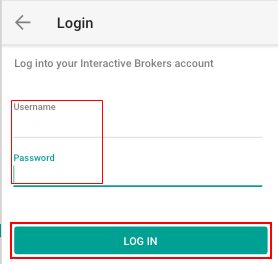 5. Read the Activation Token from the text message (SMS) sent to you (Figure 6). Enter the Activation Token in the SMS Code field, then tap Verify (Figure 7)
Figure 6 Figure 7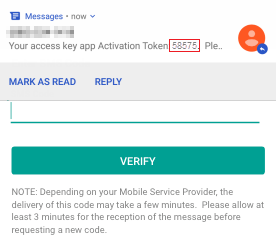 6. Choose a PIN of your preference (alphanumeric, between 4 and 6 characters, with at least one number) and enter it into the PIN field. Then enter the same PIN in to the Repeat PIN field to confirm it. Tap Activate
Figure 8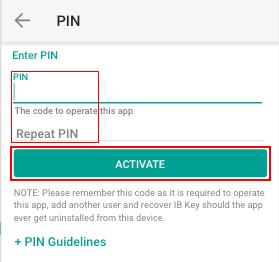 7. Tap Done to complete the migration process
Figure 9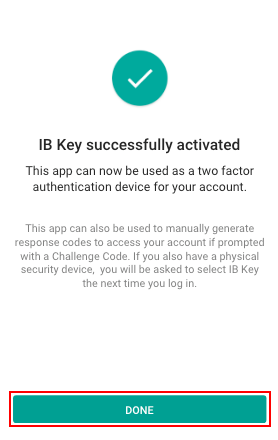 References:
See KB2260 for instructions on how to install/activate/operate the IBKR Mobile app

See KB2278 for instructions on how to operate your IBKR Mobile Authentication on an Apple iPhone

See KB2277 for instructions on how to operate your IBKR Mobile Authentication on an Android smartphone:

See KB3279 for instructions on how to log in to IBKR Mobile when IBKR Mobile Authentication is enabled on another phone
See KB3073 for instructions on how to reactivate or transfer the IBKR Mobile Authentication
Tell us about you
Find us at the office
Kajioka- Constanza street no. 39, 50889 Kuala Lumpur, Malaysia
Give us a ring
Deunte Staunton
+59 850 269 756
Mon - Fri, 10:00-14:00